Hello there crafty friends! The Inspiration Team is back with even more fresh takes on some of Eileen Hull's older Sizzix dies. The girls have been incorporating the "old" with new dies, products and techniques to give you some fresh inspiration! You can join in on the fun by searching through your stash and breathing new life into some of YOUR older dies and supplies! Enter our challenge with your old is new creation and choose your own theme for a chance to win a fabulous Sizzix prize pack filled with dies and embossing folders the IT is creating with.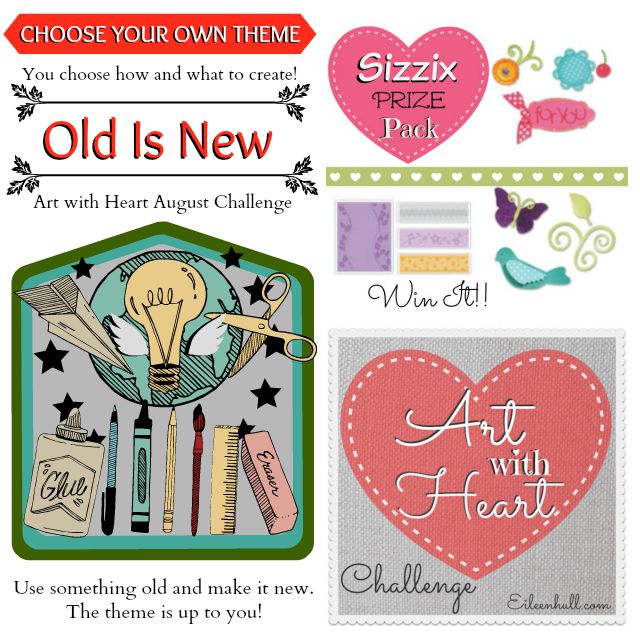 My choice was this die ↑
Place Card & Flowers #657722 you can find it
HERE
I thought this was the
PERFECT
size to make treat bag toppers!
This was soooooo easy and fast!
Any holiday, birthday or just a treat to make someone's day!
Just melt some Wilton's Candy Melts in the microwave. Dip or drizzle over pretzels, lay on parchment or wax paper to cool. Once cool, just add 10-12 per bag. The bags are 4" X 6".
They have many colors to choose from! I just happen to have yellow!
Once in the bag I stapled two small staples using Tim's tiny attacher. EASY RIGHT?
I do this because I don't like the staples to show on the toppers.
To attach the toppers you just run your tape runner on each side of topper and press over bag.
Now here is where we use the Place Card & Flowers die
I choose some different papers to show you that just this one die can cover holidays and birthdays,baby showers and so much more!
They are cut out and here is where you could go wild to decorate them!
You do not need to use the flowers if you don't want to, you can add so many other decorations.
Here I am trying to choose what to use
This one here I used the Place Card and the Flowers!
It's Cute!
I know the yellow is not very Christmas like, but I wanted to show you an example of Christmas!
Next is Halloween and I know many of us LOVE Halloween in a spooky kind of way!
So I had to make one for Halloween!
As much as I love Halloween......I LOVE this OWL using the Place Card die!
He is a piece of wood that I just colored with my Derwent Inktense colored pencils and then blended the colors with Gamsol. I love him!
All of these with just one Place Card & Flower die!
Just think you could do party favors and Place cards all from the same die! Baby showers and birthdays, Easter.......I think you get the idea! Oh gosh.....turkey's and candy corn!
Thanks for stopping by! I really hope you like my idea on how to use this die in a few different ways!
Please enter for out challenge, you know you want to! Right now we only have 3 entries!
Go
HERE
to enter!