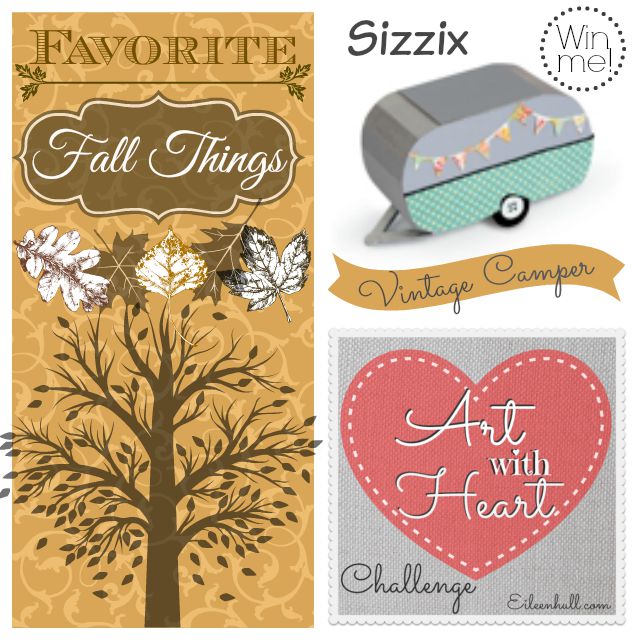 It's that time.....the warm breeze has turned to a cool brisk breeze, the trees are changing colors! I am getting some gorgeous colors here in the mountains!
Are you ready for FALL?
Here at
Art with Heart
we a gearing up and showing you what we can do with Eileen Hull's dies!
I have actually made two this month!
My first is using Eileen's
Train Case
!
You can find it by clicking on the highlighted words.
First I gathered my inks
(Wendy Vecchi inks were used)
, Train Case die,mat board, and Glue Dot® Lines.
Once I had all my pieces cut from my
Sizzix's Mat board
, I embossed them! I love the way they turned out!
Look at the detail, it gave this Train Case a rich
FALL
feel! I started to ink my Train Case using Wendy Vecchi inks! I love the rich Fall color I achieved with Wendy's inks!
I put my Train Case together.
I added a gold rub onto the hinges.
Finished off the Train Case with a Tim Holtz Key hole and some fall flowers and a few leaves and acorn embellishments! This Train Case makes a beautiful floral decor piece for your home. I love the way this turned out. Could also make a great hostess gift!
My second one is my "When is a camper not a camper? When it's a pumpkin!" project!
So cute! This is made with Eileen's
Travel Trailer
Die!
Just turn the Trailer on it's side and don't put one side of the Trailer on. Add a hand cut stem and you have a pumpkin!
Wouldn't this look beautiful on your Thanksgiving table at each table setting? Pop a treat into the opening and it serves as a gift box!
I added Fall colored M & M's!
(I ate my Candy Corn)
My two projects look FABULOUS together!
I hope you like what I have shared this week!
Make sure you join us this month's prize is the Travel Trailer! You could make your own
FALL
pumpkins! Enter at
Art with Heart
.