Hello everyone it's time for a new Art with Heart Challenge! This November the Inspiration Team and Eileen are celebrating the new
Sizzix collection Stitchlits!
This collection is sewing themed and features new Thinlits, Bigz, Scoreboards and Scoreboards XL dies for you to create sewing themed Sizzix projects with. Check out the entire
Stitchlits Collection HERE
.
Our theme this month is "A Stitch in Time". You can interpret that theme however you like just show us your oh-Sew-crafty projects for a chance to win some of my new Stitchlits Sizzix dies.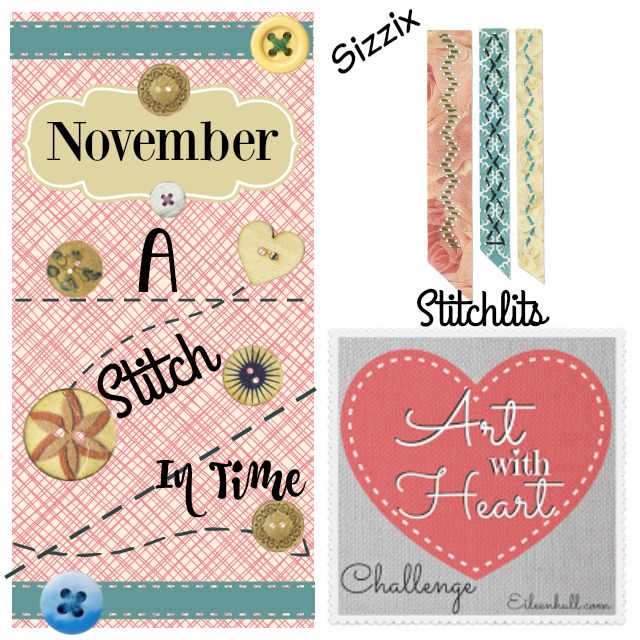 I decided to use a new embossing folder - Sew Happy!
Emboss your paper and pick out your Embroidery floss! It is as easy as that!
All you have to do is get comfy in a chair in front of the TV and stitch away!
This is SEW relaxing!
I used crossed stitch and straight stitch. Nothing to fancy.
I do recommend to use two threads. I tried three and it did tend to rip the paper a bit.
Once your done you can frame or make it into a card! This would be great to give to give as a card to that quilter or sewing friend! They would cherish it for sure!
This was so relaxing! I am going to have fun with this line!
I also have been playing with Eileen's new Stitchlit flowers and hoop! Oh my!
Sew fun! Using fabric and paper is so fun! How cure is this!!!!
You can check out the entire
Stitchlits Collection HERE
and be sure to check with your local retailers about Stitchlits and other Eileen Hull Dies!
Remember always a prize every month! Enter your projects before it's to late!
Go
here
to add you projects!