Hello everyone! I hope you all had a fantastic holiday weekend. It's time for a new Art with Heart Challenge and our theme for July is "Make it 3-D". The Inspiration Team has been busy creating with Eileen's Make it 3-D die and our dear Shelly Hickox had a great idea to use this particular die as the focus of an Art with Heart Challenge. For those of you that don't know the Make it 3-D die is an easy way to make 3-D projects with your two-dimensional dies. There are three different ways to "Make it 3-D" with the Make it 3-D die so the possibilities are truly endless! You can use the Make it 3-D die with ANY of the Sizzix dies in your collection too. Want to learn more about the Make it 3-D die? Check it our
HERE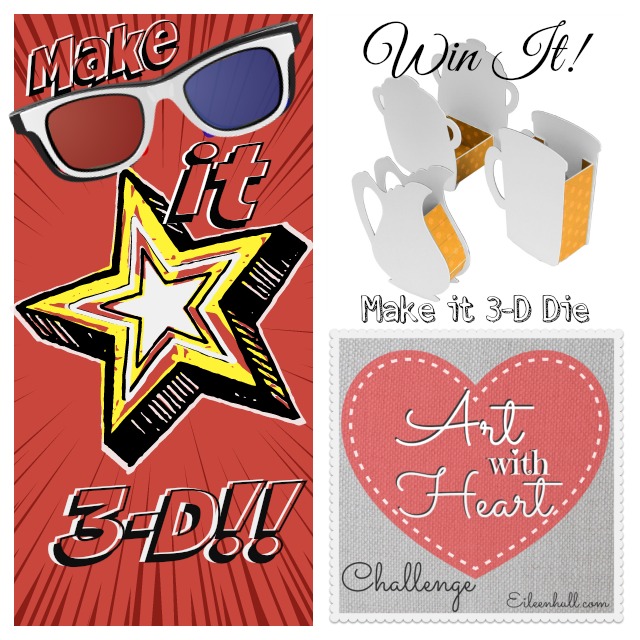 I am sad to say I did not get mine in time for this challenge (insert sad face here).
So I did the next best thing! I put my thinking cap on and came up with a 3D project using another Eileen Hull die piece!
I used a piece from the
Canister
die.
I grab my
Canning Jar
die and cut four canning jars. I cut eight lids, one for front and back of the jars. I punched holes in each of the canning jars and added vellum paper over the holes. I cut one of the canister piece showing above and glued a jar to each flap. I added a thin line of glue to each side of the jars and adhered them together. Tie some jute around each lid and add a battery operated candle and you have a cute votive for your picnics or rustic weddings or parties!
I hope you join us for this months Art with Heart! Always a prize!
Enter your 3D Art
here
!